Wondering what a student portal is? Or maybe you are already familiar with this source of information and just want to get an overview of the CSUF portal? We are here to provide you the best review possible of this powerful tool.

A student portal is a sort of gateway of educationally related information that students may find very helpful during their learning process at this school. The next step after getting into this establishment is registering at this source. If you need any assistance, contact the IT service center or click on the Help Signing In button.
Want to access all your academic information? Need to check the status of your financial aid application? Or maybe you need information on any of the college departments? This website has all of that covered, and even more. Have you heard of students complaining about how hard it is to apply for scholarships? Not anymore. This powerful tool has a function that enables you to fill out your profile and automatically match it with the scholarship suitable for you.
If you were looking for a way to easily communicate with the Admissions Office? Here it is, just log in to the portal and jump to the Titan Online webpage. It gives you the ability to get details about your academic records.
Contacts of the Cal State Fullerton Student Portal
On the portal, you can find plenty of useful information. Besides, such contact information is listed there:
About Cal State Fullerton Student Portal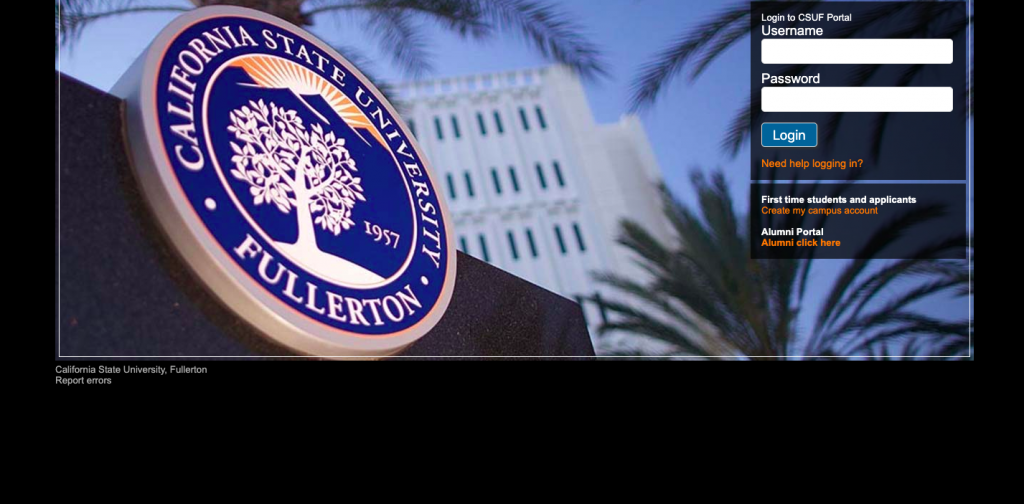 The portal website navigation system is very easy to understand and use. Even inexperienced internet users won't have problems with this webpage. Also, the design is nice. The whole portal is created in blue and white colors.
The whole website consists of the two main tabs – CSUF Portal and CSUF Involved. When you click on the CSUF Portal tab, you'll see small boxes at the top of the page that let you choose which information to view. You can go to such sections of the portal:
Titan Online
Titan Apps
Student Email
TITANium
Scholarships
Get Involved
Library
Student Training
Also, a bit lower from those boxes you'll spot a message center. Here you can view your university and academic messages.
The portal section Titan Online is the most valuable part of the website. By clicking onto it, you can jump to the Student Center. It contains the class schedule, financial aid info, contact information, new student advisement details, a customized to-do list.
Program Description of California State University Fullerton
The educational establishment offers 110 degree programs, which include the undergraduate and graduate ones. You can choose to earn a bachelors, masters and doctoral degrees in such areas:
Art
American Studies
Business Administration
Chemistry
Cinema And Television Arts
Computer Science
Criminal Justice
Education
Geography
History
Information Systems
Japanese
Kinesiology
Linguistics
Music
Nursing
Psychology
Public Health
Social Work
Sociology
Spanish
Taxation
Theatre
Others
The list is very long and to view the full version of it, go to the college website. Also, the establishment of higher-education offers certificates, internships, credentials and other programs.
About California State University Fullerton

CSF is one of the campuses that are a part of the CSU. Almost 40,000 students are being enrolled at any of the degrees annually. It a very diverse college, as it has students from 79 nations. This educational establishment consists of the following departments:
Arts
Communications
Education
Business and Economics
Engineering and Computer Science
Humanities and Social Sciences
Health and Human Development
Natural Sciences and Mathematics
University Extended Education
The institution does everything possible to prove the students with opportunities to explore different areas of study and cultural pursuits. It has more than 375 clubs and organizations. Sports are also huge in CSUF. Students choose from baseball, basketball, cross country, golf, soccer, softball, tennis, track and field, volleyball, spirit squad.
Around 2,000 learners choose to live on campus. It is very clean, safe, and convenient to live only a couple of minutes away from the classes.
Reviews for California State University Fullerton
Most students of this institution rate it as a very good one and many of them recommend it. They state that everybody on-campus is very friendly and helpful, both the students and the faculty. Also, there is always something to do on-campus, there are plenty of clubs to attend, and many great programs, such as Grammarly, Office 365 and others. Its learners are very satisfied with the resources that the college has for them to achieve their goals. The campus has a lot of great places for students to study. The only thing that needs fixing is the reconstruction works going on there, but that is only a temporary disadvantage.
Learners that chose to study online, for various reasons, such as stay at home moms, or full-time employees, say that it was very easy for them to do both. The university offers plenty of flexibility, which is very valuable for them. Moreover, the programs are very affordable, compared to others.
The college is very diverse. Here people from many different backgrounds study. And the faculty and staff do everything in their power to make every person welcome at the educational establishment. Some of the minuses are somewhat large class sizes, not great food, the administration needs to be better, and other minor minuses.
Professors that have worked here claim that this is a fairly good place to be employed, some even say that there were no cons. The institution was very flexible with changes in the schedule and the hours off. And people that did both, worked and studied at this establishment say that you can go between these things very easily. You can balance your personal life, study and work easily. Also, the establishment now focuses on creating more opportunities for student assistants. But a huge minus was the salary expectation.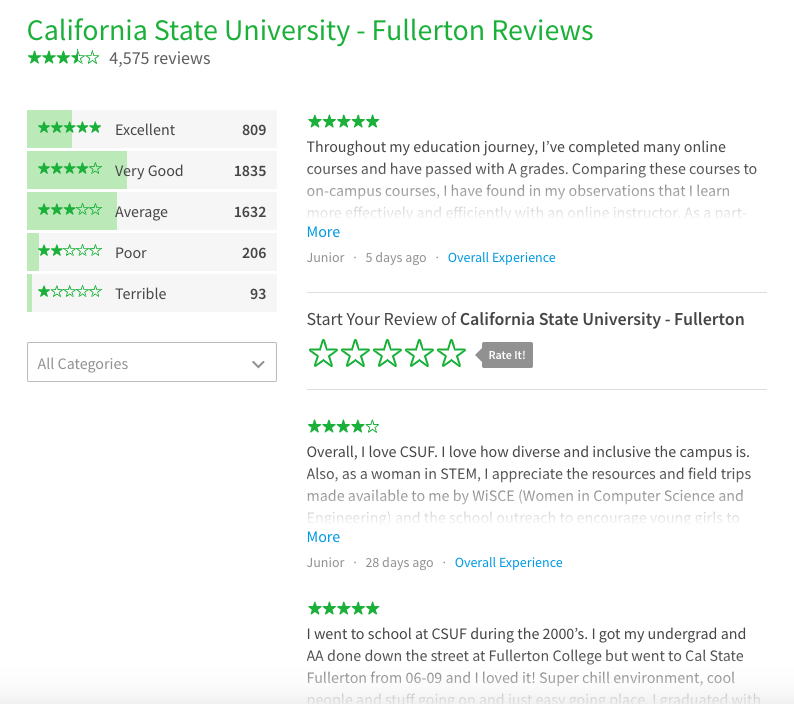 Pros and cons of California State University Fullerton
It is impossible to say whether an institution is completely good or bad. So to let you choose your side, here is a list of the pros and cons.
Pros:
Diverse
Great and friendly professors and staff
Wonderful online programs for stay at home moms or full-time employees
Beautiful campus
Inspiring environment
The institution really wants the students to succeed
Understanding and supportive managers
Cons:
Food
Lack of parking space
Class size is on the larger side
Art department needs more programs
The pay could have been better
Does California State University Fullerton have a campus?
Yes, and it is a big one. You'll find here a children's center, beautiful park, bookstores, famous Fullerton arboretum, Gordon Hall, stadium and a couple of fields, recreation center, a big library, and many other useful educational buildings. If you are a freshman and can't find the building you need, log in to your portal account and view the campus map, or search for the needed department in the campus directory.
Tuition and Fees at California State University Fullerton
This educational institution tries to keep the costs to a minimum. The tuition varies according to what program it is, whether you are a resident of California, or not, and whether you are a part-time or full-time student. An undergraduate program for full-time students and residents of the state costs $2,871 and for non-residents $3,463.36. Graduate and other post-baccalaureate programs for full-time students and residents of the state cost $3,330 and for non-residents $ 4,180.36. Plus students are required $590.36 campus-based fees.
But, a great advantage is that this educational institution offers many scholarship opportunities. Every year around $2 million in scholarship are being awarded to students. If you have a great scholastic achievement or a financial need, or many other factors, try to apply for a scholarship, maybe you are the next lucky one. The university's website and the portal have plenty of important details on how to apply.
Conclusion
Student portals are known as the main gateways to educationally related information. They are created for the student's convenience. Isn't it just great that a huge amount of useful information is packed on one website? And you can access all that from your laptop, or even download an app and use it from your phone.
This student portal has everything that a modern student may need. You can check your grades, register for classes, view your schedule, and a lot more. Just think, a few years ago in order to have such information students had to go to the university and look for that information or ask people for it. But now, due to learning portals, it is as easy as possible. All you need to do is register, log in, and enjoy the unlimited flow of academically related details.
Have no idea about what financial aid is, or how to apply it? Need contact details for some departments? Want to view your attendance records? Or maybe request an unofficial transcript? You're in luck because the CSUF portal has all that in one webpage. Take your time, scroll through the portal and you will see how this powerful database is a huge convenience for you.